THE CLASSIC ROUTE ON ELBRUS.

The route of ascent starts from the Baksan Valley, runs along the south side of the mountain and is considered to be a classic. It is quite available for physically healthy normal people. The vast majority of our clients make successful climbing on Mount Elbrus under favorable weather conditions.
The route, though, and requires a special climbing equipment (cats, ice ax), is not technically difficult. But this is its perfidy. Such natural factors as altitude, rarity of the air, cold, frequent winds, release of sulfur gases, lack of visibility in bad weather, increased activity of the solar radiation would require climbers on physical fitness, endurance and high-quality equipment.
For not very experienced climbers it is desirable to take a guide. He spends an optimal acclimatization program with the group and significantly increases the chances to reach the top, as he knows many of the technical and psychological techniques of climbing. Besides, the guide makes the trip as safe as possible.
PRPGRAM: ELBRUS CLIMBING FROM THE SOUTH WAY.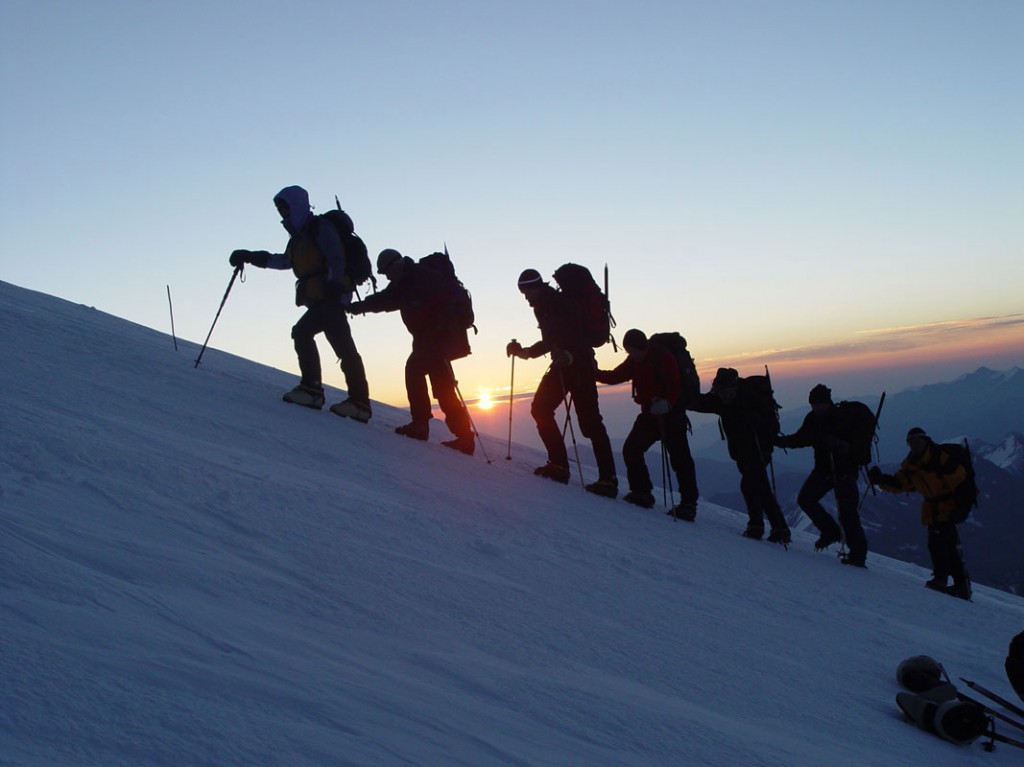 Region: Central Caucasus.
Experience in mountaineering: no previous experience of climbing.
Physical fitness: a good one (not recommended for people with medical contraindications).
Duration: 9 days.
Accommodation: hotels  & refuges.
Dates: end of April - breaking of September.
Type:  on foot or ski touring
The program:
Day 1: Arrival at the airport, transfer to the Elbrus region to Terskol village (2100m.), accommodation at the hotel. Night in hotel.
Day 2: Acclimatization on mt. Cheget (3400m.) Night in hotel.
Day 3: Placement on Priyut-11, acclimatization on mt. Elbrus to the refuge "Priyut-11″ (4200 m.) Night in refuge.
Day 4: Acclimatization to Pastukhov Rocks (4700m.) Night in refuge.
Day 5: Rest day. Night in refuge.
Day 6: Ascent. Night in refuge.
Day 7: Reserve day in case of bad weather or trekking. Night in hotel.
Day 8: Reserve day in case of bad weather or trekking. Night in hotel.
Day 9: Departure, transfer to airport.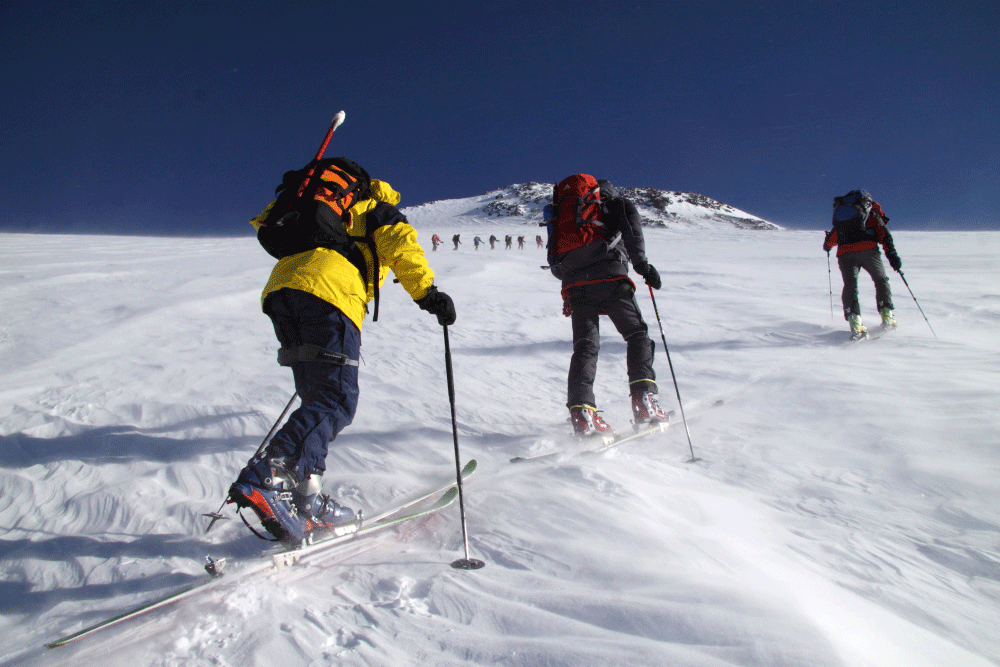 WARNING!
Due to the increased risk of the tour all the orders of the guide relating to Safety are mandatory for all participants. You need to have in mind that in adverse weather conditions, you may not even try to climb – the money in this case will not be returned.
THE PRICE.
1 person — 1200 euros
2 persons — 1000 euros per persons
3 persons — 850 euros per persons
4 persons — 800 euros per persons
5 persons — 750 euros per persons
6 persons — 700 euros per persons
The price includes:
Meeting at the airport of Mineralni Vodi with a responsive local English- / French-speaking.
The airport transfer Mineralni Vodi / Valley Baksan, Terskol village/ Mineralni Vodi.
The transfer required for the program and acclimatization for the ascent.
Accommodation at the Hotel half board (4 nights) (One room for 2 or 3 person).
The accomodation in the refuge with full board (4 nights).
The cable way (2 time).
English- / Frensh-speaking guide for the group during staying in Caucasus. A mountain guide English- / French-speaking for 3 people.
All related permits and registrations necessary.
Price does not include:
The entry visa to Russia.
The flight to Mineralniye Vodi / Nalchik
The ascent to Pastukhov Rocks by snowcat (snowmobile) or for most groups on the road to the summit. On the day of the ascent a lot of groups rent a snowcat to  Pastukhov Rocks. It is a common practice for the inexperienced in mountaineering groups. Snowcat holds approximately 12 people, the rent of the snowcat is 400 euros and is divided at everybody.
The ascent to the refuge above 3800m.
Rent of personal equipment (sleeping bags, crampons, ice ax, etc).
Other unexpected program costs.
LIST OF NECESSARY EQUIPMENT:
You can rent all necessary equipment.
Lightweight thermos for tea (1 litter).
Sleeping bag with a comfortable temperature to -10 °.
The jacket and pants made of "gortex" or similar material.
Puffy jacket, or at least a fluffy jacket.
Fleece jacket, 2 pcs. and pants, 1pc.
Thermal Underwear.
Plastic shoes.
Gaiters, if the pants are without protection from the snow in boots.
A sufficient number of socks, some wool socks.
Warm gloves, mittens and special proof mittens – you can wear them over gloves or mittens.
Beanie, "balaclava" or a mask – from wind and frost.
Binding (bottom), lanyard, two carbines.
Cats.
Ice axe.
Telescopic poles.
Glasses for climbing, the degree of protection at least 4.
Backpack for climbing (25-35 liters, lightweight).
Backpack for equipment (75-90 liter).
Headlamp flashlight, extra batteries and bulb.
Sunscreen.
The Visa
To get the visa you must:
Have a passport valid for at least 6 months after your trip;
Have an invitation (visa support) page which we'll send you;
Have an insurance;
Pay a fee to the Consulate. The amount depends on your country.
Here you can find the embassy or consulate nearest to you: www.russianembassy.net
For the invitation we need the following data:
Your full name;
The date and place of your birth;
Your citizenship;
The passport number and date of issuance;
The number of your fax;
In which city is your Consulate of Russia